A short and well overdue post regarding the label Discus Music, Sheffield's innovative and well-regarded music label which is at the forefront of new releases varying from leftfield rock to jazz and songform, and which also features many musicians fondly regarded by fans of the Canterbury scene.
The label is a champion of releases from Keith Tippett, who in the wake of a very serious illness recently, has a forthcoming album with partner Julie Tippetts which relies on your support via crowdfunding for its release in 2020. Elsewhere in the catalogue is the excellent MPH album 'Taxonomies' reviewed here last autumn and featuring Hatfield and the North's Alex Maguire and the ubiquitous Mark Hewins alongside Martin Pyne. Label owner Martin Archer's Anthropology Band, an ambitious electro-jazz collective,  is powered along by Gong bassist Dave Sturt, whilst The Eclectic Maybe Project's  'Reflection in a Moebius Ring Mirror' is a progressive/experimental album from  Guy Segers which includes recent Facelift reviewees Carla Diratz and Dave Newhouse and Michel Deville, alongside fellow Univers Zero emigre Andy Kirk.
Gong/Magick Brothers violinist Graham Clark appears on East of Eden's Ron Caines' album with Archer 'Les Oiseaux de Matisse' whilst ex In Cahooter Sarah Gail Brand and long-standing Elton Dean collaborator Mark Sanders appear on Orchestra Entropy's 'Rituals' and I dare say if you work your way through the 80 or so strong back catalogue you will find many further links. Well worth signing up for email updates perusing the full catalogue at http://www.discus-music.co.uk  or even better sample some of the various wares at http://www.discusmusic.bandcamp.com. A full press release of current/future releases follows:
DEAR LISTENERS – Thanks for taking a few minutes to read about these recent CD/DL releases from Discus Music.  We hope you'll find some sounds to enjoy within our ever expanding catalogue!  Please visit http://www.discus-music.co.uk to buy or http://www.discusmusic.bandcamp.com to have a browse through the sound files.  Click on each sleeve image below to visit the Discus website.  All prices include post and packing worldwide.  And don't forget there's a 30% reduction on everything you spend over £25 on the site (discount not available on Bandcamp purchases) – MARTIN ARCHER
MARTIN ARCHER – ANTHROPOLOGY BAND – DISCUS 90CD.  Taking the electric music of Miles Davis as its starting point, Anthropology Band is about finding the atmosphere through a deep rhythm, a searing blues run, a delicate melody, or a cascading solo statement. Band leader Martin Archer has kept the music as simple as possible – often driven by the bassline – and the structures loose, to enable this who's who of UK creative musicians to let the music breathe in a different way each time it is played. There are multiple chordal instruments in the centre of the sound, allowing each soloist to sit on a kaleidoscopic wave of intercrossing figures which push the music forward.
"Five stars.  Again a creative project by Martin Archer….. And so we can have two versions in one fell swoop: a great idea, ambitious and winning. The style is towards electric Miles, progressive rock, and, on some tracks, improvised modern jazz. Wide and open structures, imbued with a beautiful blues feeling, which allow those who find the inspiration to assert their expressiveness. However, it is always Miles' imprint that dominates, not least because of the pervasive presence of Charlotte Keefe's trumpet ….. Archer's stable does not disappoint, nor does it disappoint those who, with skilful creativity, organiSe and guide it." – A. G. Bertinetto, KATHODIK
"Though Martin Archer's Anthropology Band readily acknowledges its debt to electric era Miles as its starting point, it quickly hurtles off into its own distinctive space.  Chris Sharkey's vivid, blazing guitar adds a fevered counterpoint to Archer's sinuous brass themes which frame much of this 2 CD set.  Gong bassist Dave Sturt adds notable definition."   – Sid Smith, PROG
On this double CD the music is presented in two versions, firstly by the live band:  Martin Archer – saxophones, electronics, composer / Charlotte Keeffe – trumpet, flugelhorn, arranger / Chris Sharkey – guitar, electronics / Pat Thomas, keyboards, electronics / Corey Mwamba – vibraphone / Dave Sturt – bass guitar / Peter Fairclough – drums.  And on the second CD an 11 piece brass and woodwind section, arranged by Martin and Charlotte, is added.  We wrote these parts with the idea in mind "what would Gil Evans have written for Bitches Brew?"
WALT SHAW – BURNT WITH A BRILLIANT LIGHT – DISCUS 91DL. (Download only)  "At the opening of my solo visual art exhibition at Déda, Derby, January 11th 2020, I did a solo percussion performance. I used drums, cymbals, gongs, bowls, home-made instruments and objects.  The performance consisted of 10 short sound 'sketches', each one dedicated to a different artist that has meant a lot to me in my artistic development. I am always looking for processes that in some way fuse my love of sound and the visual art medium.  So hopefully each percussion 'sketch' appropriately invokes the spirit of each artist with my personal sound interpretation." – Walt Shaw
"We're not sure whether he was a painter or a percussionist first, only that he has been doing this for quite a long time and is incredibly talented.  Shaw also makes many of his own instruments (often from scrap) and has a special affinity for gongs.  Earlier this year, his two worlds collided in an enjoyable way: a solo percussion set performed at the opening of his art exhibition at Deda.  Each short "sketch" is dedicated to an artist who has influenced Shaw…..But whether the cover draws the attention to the music, the music to the art, or the titles to the work of others, all components work in connection ~ like an assemblage or a collage.  The circle is complete."  – Richard Allen, A CLOSER LISTEN
ARTICLE XI – LIVE IN NEWCASTLE – DISCUS 89CD.  Article XI came together in 2014 when Anton was commissioned by the Manchester Jazz Festival to create a new set of music for large ensemble. This record continues the group's explorations into large ensemble collective composition, with two new pieces alongside re-imaginings of two pieces from their debut 2018 album. "Live in Newcastle" was recorded at the Bridge Hotel during a concert for Jazz North East, long-standing supporters of improvised music, and a night which bandleader Anton Hunter has had a long relationship with over the years.
Sam Andreae – alto saxophone / Oliver Dover – alto saxophone / Simon Prince – tenor saxophone & flute / Cath Roberts – baritone saxophone / Graham South – trumpet / Nick Walters – trumpet / Kieran McLeod – trombone / Tullis Rennie – trombone / Seth Bennett – double bass / Johnny Hunter – drums / Anton Hunter – guitar
THE GEORDIE APPROACH – SHIELDS – DISCUS 84CD.  Ståle Birkeland – Drums / Petter Frost Fadnes – Saxophone & Electronics / Chris Sharkey- Guitar & Electronics
"Shields is their major statement: two long, no-edits performances recorded in a converted Methodist church in Leeds.  The saxophone, guitar and drums trio…..sound like anything but – the huge, echoing rumbles of "North" resemble slowed down whale song or tectonic chatter; they just come from sax or guitar, but flanged and gated and utterly, fascinatingly denatured.  There is a deep understanding between the players, bacause both movements…..move with an almist narrative logic, as if a journey has already been made." – Brian Morton, THE WIRE
RON CAINES / MARTIN ARCHER AXIS – DREAM FEATHERS – DISCUS 88CD.
"Challenging categorisation, Dream Feathers is a three-dimensional, headphones-on exploration of beauty and openness. The grooves may become pleasingly familiar, each time you listen, but the improvisatory spirit also sustains interest to return again and again to discover more." – Adrian Pallant, AP Reviews
"I could do a track by track description, much better to hear this wonderful recording for yourself.  These are all Ron Caines tunes, yet the ensemble is everything.  In places the Gus Garside/Johnny Hunter bass/drums team hang on it like Carter and Williams from the Miles Davis Quartet, such is their stealth.  Laura Cole's piano (acoustic & electric) structures the fix.  Anton Hunter's guitar, pithy, not over played.  Archer's multiple "hornweb" on African Violets, a gift.  He and Hervé Perez provide all kinds of enhancing, yet nothing diverts from the Caines tenet. By the time the ensemble reach the final track, Almazon/1934, they are essential.  That hanging piano rings out a melody like bells from a high tower. Ron Caines, tenor purchasing another plangent melody squeezed by electrophopia. In the transfer from Almazon to 1934 the guitar is pushed through a gizmo, grinding the notes to audio dust accompanied by a field recording of bird song.  And the horn, a lone deity left to flood the senses. Magnificent." – Steve Day, stevedaywordsandmusic
In this continuing series of releases with Ron – the mastermind behind East Of Eden, one of the most creative and adventurous groups to come out of the 1960s collision between jazz, rock and psychedelia – we seem to have arrived at an interesting place where an ostensibly straight jazz group playing beautifully realised melodic material is somehow unexpectedly pulled sideways into a strange alternative electroacoustic universe. We like this little clearing in the forest which we've found for Ron's music – and in many ways it mirrors the pioneering work of his early music with East Of Eden, all be it with technology which was not available to those musicians in those days. Come hear this master melodist at work. Album artworks by Susan Caines.
credits
Ron Caines – soprano, alto & tenor saxophones
Martin Archer – bass clarinet, organ, electronics, horn section
Laura Cole – acoustic and electric pianos, harmonium
Hervé Perez – field recordings, electronics, sound design/processing
Anton Hunter – guitar and electronics
Gus Garside – double bass
Johnny Hunter – drums
Gus G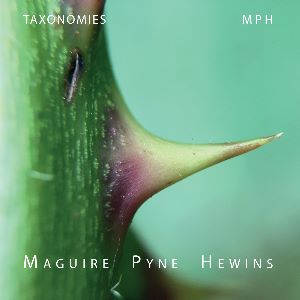 MPH – TAXONOMIES – DISCUS 87CD.  Alex Maguire – piano, Hammond organ / Martin Pyne – vibraphone, drums, percussion, electronics / Mark Hewins – guitars, electronics.
"The titles of the works are inspired by various flora and fauna, sich as 'False Jasmine', 'Meadowsweet', 'Purple Loosestrife', and 'Sally Lightfoot'. The names are to suggest "timeless narrative, characters, landscapes and mindscapes." This they do, in full bloom. The catholic palette of settings from lazy daydreaming to rippling directions, and exotic chance, provides the audience with a series of short films for the ears and imagination. 'Taxonomies' is very curious, distinguished and inventive." – Lee Henderson, BIG BEAUTIFUL NOISE
MPH is a trio featuring three of the most creative musical minds on the improv scene today. Their music draws from a huge range of genres to create bewitching and astonishingly original sound pictures, shot through with vitality, tenderness and humour. Taxonomies is the trio's debut album, taking inspiration from a quirky perspective on the natural world.
COREY MWAMBA – NTH – DISCUS 86CD.  Corey Mwamba – vibraphone, glockenspiel, beak flute / Laura Cole – piano / Andy Champion – double bass / Johnny Hunter – drums, small percussion
"NTH is a rhythmically minded beast. The beautifully rhythmic drumming of Johnny Hunter allows Corey's searching vibes and the playful piano of Laura Cole full rein in chasing and tagging one another. To me the vibes always sound as though they are the precursor to something mysterious and unknown; a sense of expectation is always present in that soulful ring and it is never more so than here." – Mr Olivetti, FREQ
"The idea for putting together this group, at the time I did, represents a slow movement. This is a group of people that I had wanted to put together for a while; some of the music was written almost fifteen years ago. But then, as it began, we accelerated; we played live four times, the final time coinciding with my last time. Andy, Johnny, and Laura have given so much in performing and dealing with the material. What these musicians and friends have done, to me, reflects a core tradition in jazz — to deal and commit to the material and make new things, present new ways of listening and expressing: to move beyond the limits of the marks on the page, towards feeling." – COREY MWAMBA
ORCHESTRA ENTROPY – RITUALS – DISCUS 85CD.  The classic language of European free improvisation carefully sculpted into a series of movements for large ensemble by composer / improviser Matt London.
"The Discus catalogue is now large and incredibly varied. This is one of its finest moments." – Brian Morton, JAZZ JOURNAL
"On Rituals, composer and saxophonist Matt London expands his new music group Ensemble Entropy into a ten piece improvising orchestra.  The musicians are free to interpret London's language score as they see fit, the intention being to sculpt the improvisations so that the music develops and transforms along an ancient element journey.  As powerful as the full ensemble can be, London maximises its impact by breaking it down into smaller groupings via two trio sub-pieces.  "skelf" (Scots for splinter) is a scrabble of electric guitar, double bass and drums, while "antiphon" is an elegant interlude for strings.  Tom Ward's inquisitive clarinet and Sarah Gail Brand's puckering trombone bring the orchestra back in over Mark Sanders' woodpecker percussion, leading to a stately closing theme reminiscent of Eyvind Kang."   – Stewart Smith, THE WIRE
"RITUALS is an extended work for ten improvisers presented on two hand drawn panels. This language score consists of various open notations, graphics plus two trio sub-pieces titled skelf (electric guitar, double bass and drums) and antiphon (violin, viola and double bass) for the performers to decipher. The intention is to sculpt the improvisations so that the music develops and transforms along an ancient elemental journey, with the composer not as a totalitarian figure of authority, instead giving the performers the guidance, the licence to explore and discover who they are within it." – Matt London
Matt London – tenor saxophone, director / Georgia Cooke – alto flute / Tom Ward – bass clarinet / Seb Silas – baritone saxophone / Sarah Gail Brand – trombone / Rebecca Raimondi – violin / Benedict Taylor – viola / Seth Bennett – double bass / Moss Freed – electric guitar / Mark Sanders – drums
ECLECTIC MAYBE BAND – REFLECTION IN A MOEBIUS RING MIRROR – DISCUS 83CD.  A second volume of the Guy Segers (ex Univers Zero) project where the basic live band session is enhanced by an extensive post production involving contributions from a wide range of improvising musicians. Located musically between edgy jazzrock, electronics and improvisation, the release has been a surprise best seller, and this time round the tracks are built around a large and ever shifting cast of players:
Carla Diratz (Vocals)  Cathryn Robson (Vocals) Roland Binet (Flute, Piccolo) Martin Archer (Sax Sopranino & Alto) Joe Higham (Sax Soprano & Tenor, Electronics) Dave Newhouse (Sax Alto & Tenor, Bass Clarinet) Jean-Pierre Soarez (Trumpet) Ariane Plumerel (Violin) Sigrid Vandenbogaerden (Cello) Michel Delville (Guitar) Eric Lemaître (Guitar) Ángel Ontalva (Guitar) Andy Kirk (Guitar, Keyboards) Catherine Smet (Piano, Keyboards) Guy Segers (Bass, Programming Virtual Instruments) Franck Balestracci (Keyboards, Drums) Dirk Wachtelaer (Drums)
"Overall, Reflection In A Moebius Ring Mirror is a release of unparalleled scope, almost astounding in its reach, but with its beauty and sense of questing allowing the listener opportunities to immerse themselves. The players are all superb, and Guy's way around the studio means that his constructed tracks are seamless yet exploratory. It is well worth taking a dip into these welcoming waters — but watch out for the currents." – Mr Olivetti, FREQ
INCLUSION PRINCIPLE – ARKIV – DISCUS 82DL.  Nu-Jazz / electronics / improv group Inclusion Principle has been performing live since 2006. Commencing 2019, we have started to create an archive of our concerts under the ever evolving catalogue number Discus 82DL.  The first three concerts, featuring the group in its early duo format of Hervé Perez and Martin Archer (saxophones and laptops) are available now.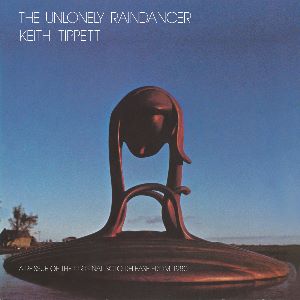 KEITH TIPPETT – THE UNLONELY RAINDANCER – DISCUS 81CD.  We're massively proud to be bringing to you this re-release from 1980 – Keith's first ever solo piano release, which predates his Mujician series from the following decade.  These exciting and vibrant performances, recorded live on a tour of the Netherlands in 1979, have been carefully remastered from the source tapes.  In Keith's view, this music forms the template for his future solo work up to the present day.  Out of print for many years, and unknown to most, this vital document will be a must for all fans of UK creative music.
"The re-blossoming of a long dormant rose.  Or oak, as Tippett twice visits the folk melody of Tortworth Oak, though he soon transcends the tune with his massive chording, ocean-wide sense of dynamics and wrists of iron that allow him to repeat hot forged figures and trills with an unremitting, unswerving attack.  With different pianos at different venues, there is a variation in tonality and ambience, but that adds to the overall richness of the sound quality, the narrative of the tour, as well of each cut.  And that is Tippett's gift to the listener, that even in the most expressionistic passages, there's an organic storytelling arc to each piece, even within the epic Steel Yourself.  This is improvised but not avant-garde music that disappears up its own arch.  It's music with a heart of soul that can barely contain itself.  But it does, just." – Andy Robson, JAZZWISE – EDITOR'S CHOICE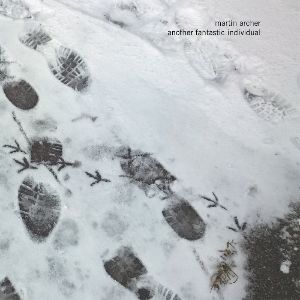 MARTIN ARCHER – ANOTHER FANTASTIC INDIVIDUAL – DISCUS 80CD.  Solo music for woodwind, percussion and minimal electronics. "This is the first time I've made an album on which I'm the only performer. I've been playing AACM style saxophone for more than 40 years now, and this collection – a mixture of solo and small ensembles, sometimes with percussion or minimal electronics – presents everything I've learned about the instrument as a player and composer in that time." – Martin Archer
"One of the pleasures of Martin Archer's recordings is anticipating what he has in store for the listener…Very carefully overdubbed…The improvising is excellent and some of the tunes are masterful…Outstanding!" – CADENCE
FROSTLAKE – ICE & BONE – DISCUS 79CD.  Ice & Bone – long awaited second CD by multi-instrumentalist frostlake (Jan Todd) who has been busy writing and recording for the improvising band Orchestra of The Upper Atmosphere. Ice & Bone is now finally released and the distinctive sound palette of her debut CD 'White Moon, Black Moon' continues – acoustic and electronic sounds washed with layered vocals and the creative bass of Terry Todd.  They have played out live as a duo and here are studio recordings of their live set.  The mix of acoustics strings/wind instruments with ethereal synthesizers and percussion takes you to another world- from the gentle terror of '60's B movie 'The Lake' to the classic folk horror of 'When Trees Sing/Find Me'.  Ice & Bone unwraps the darker layers of the mind in dreams and the unexplained.  Driving bass and drums grind it back to reality in 'Just A Game' and 'The Last Time' so this album is caught between the worldly and the unworldly – British psychedelia at it's best. Field recordings add a sense of time and place in the eerie, natural world that frostlake creates and shares it's stranger secrets.
'Ice & Bone' is a gorgeous, dreamy and rich with haunted folk, of lost ghosts, calling from another world, whispering sweet things in your ear. – Lee Henderson – BIG BEAUTIFUL NOISE
BECK HUNTERS – HAS IT BEEN FOUND? – DISCUS 78CD.   Mick Beck – tenor sax, bassoon, and whistles / Anton Hunter – guitar / Johnny Hunter – drums.  A new set of improvisations from this formidable team of master musicians.
Terrifying thunders, trembling solos, vibrant and powerful climaxes, light, expressive, passionate or luminous melodies, turbulent rolls, breaking sessions, driving sequences of repetitive notes – all these elements and moods are gently combined together. The music has impressive sound – it has driving and expressive mood. – AVANT SCENA
DAS RAD – DAS RAD – DISCUS 75CD.  Nick Robinson – electric and acoustic guitars, loops, electronics
Martin Archer – saxophones, clarinets, flutes, recorders, melodica, keyboards, electronics, synth bass
Steve Dinsdale – electric drums, acoustic percussion, synth.
Stunning prog-friendly improv-rock from Sheffield stock.  If you don't know the name of multi-instrumentalist and Discus Musics' owner Martin Archer, then you've not been paying attention to some of the most interesting developments in British jazz, psych and rock during the last 25 years.  His latest cross-genre experiment finds him in the company of guitarist Nick Robinson and Radio Massacre International's keyboardist / drummer Steve Dinsdale.  An extremely accessible, at times almost poppy collection of instrumental tracks, it's a skilful integration of jazzy muscularity, noodling electronica and invigorating surges of air-punching rock.  Mostly they appear as concisely constructed bursts with a punk-like brevity that brings urgency and impact to scrunching guitar riffs and luminous shafts of Mellotron strings.  However, their two epic-length explorations Porto Steps and London Steps combine mesmeric mid-tempo beats and throbbing bass to frame scudding sax drifts, twinkling daubs of guitar and billowing atmospherics to form a blissful and immersive environment.  Elsewhere two sumptuous acoustic guitar pieces add bucolic interludes to an album already overflowing with expressive tunes and startlinf quality. – Sid Smith, PROG
MAJA BUGGE – NO EXIT – DISCUS74CD.   Maja Bugge – cello
The Norwegian cellist Maja Bugge's second solo album "No Exit" was recorded inside Standedge canal tunnel by Hervé Perez. The music on this album is mainly improvised and responds to the 3 ¼ mile long tunnels unique acoustic and sounds. She is also using the history of the site as an inspiration echoing the rhythmical patterns of feet moving the boats through tunnels in the 19th century and the sound of stones being carved out of the ground 200 years ago.  This results in a haunting, meditative and expressive improvisation. It is a homage to a unique site and its sound. The "lone" cello responds to the unpredictability of the space and together they make something.
Recorded by sound engineer Hervé Perez in the tunnel, 200 years old and over 3 miles long, of Standedge, West Yorkshire, the disk has the solo performance of the Norwegian cellist, residing in Lancaster, Maja Bugge. Her instrument interacts with the unusual environment, meditative atmosphere-generating sound improvised melodic lines and melancholy. The Standedge Tunnel, five tracks Lullaby for Legging, Passage, Boat and No Exit recall the experience of the tunnel through which the monologue of the arc of the musician seems to seek a dialogue, an interaction, a possibility of communication. The dramatic character of the music is appreciated especially knowing the particular situation of the context of his performance. – A G Bertinetto, KATHODIK
RON CAINES / MARTIN ARCHER AXIS – LES OISEAUX DE MATISSE – DISCUS 72CD.  Ron Caines -alto and soprano saxophones / Martin Archer – saxophones, clarinets, software instruments / Laura Cole – grand piano, electric piano / Gus Garside – double bass / Johnny Hunter – drums / Hervé Perez – live sound processing, shakuhachi / Graham Clark – violin, electric guitar.
Ron Caines was the mastermind behind East of Eden, whose groundbreaking first two albums Mercator Projected and Snafu, mixing psychedelic rock, jazz, bluebeat, poetry, electronics and studio experimentation, were massively influential on teenage me at a stage when I was starting to explore the limits and possibilities of music.  It is a massive honour to be able to record with Ron all these years later.  This CD is a collision of pure jazz skill happening in real time and studio collage.  We hope, even though the music is quite different, that it contains a spark and continuation of the "arts lab" ethos of Ron's early work with E of E.
This is outstanding!  Loose and supple playing. Hints of Mingus at his freest, mixed with Eastern influences and even traditional jazz. Really strong compositional 'springboards'. Record of the week!! – MATT PARKER, BRITISH PROGRESSIVE JAZZ
LAURA COLE – ENOUGH – DISCUS 71CD.  Laura Cole – piano
"A mood of calm introspection sits over this collection of pieces for solo piano.  Yet, within that, Cole succeeds in exploring divergent avenues of expression.  the first disc contains her arrangements of compositions by various associates from the UK jazz scene:  Jason Yarde's "Unisome (Unisin, Unison, Unisone, Unisum)!" is a fugue-like puzzle tackled with insouciant Monkish precision;  Kim Macari's "Default Settings" mingles harp-like sweeps of the piano strings with intensely intimate vocal mutterings:  while Corey Mwamba's "forgotten letters; Bereft; Tears: bright grey" is a solemn 15 minute suite of scattered stipples and enigmatic phrases.  On the second disc, Cole presents her own compositions and improvisations, revealing a quietly emphatic sense of space:  "The Crossing…" employs long pauses and isolated sonar-like notes, while "Extinguish" bathes in the warm glow of the sustain pedal" – DANIEL SPICER, THE WIRE
"A very personal statement from an engaged  musician! "– VITAL WEEKLY
ORCHESTRA OF THE UPPER ATMOSPHERE – THETA FOUR – DISCUS 70CD. 
A snarling mix of prog / zeuhl / Alice Coltrane / Terry Riley
"When it comes to Orchestra Of The Upper Atmosphere's Theta Four, describing it as 'epic' feels like selling it short. The large ensemble harnesses a hybrid patchwork of electro-acoustic textures that brings to mind the spacey explorations of Alice Coltrane, Terry Riley, Tangerine Dream, Can et al. Choirs, choppy strings, throbbing beats, dreamy vocals and snarling bass rise and soar into bold themes creating a diverse and thrilling listen. If you're unfamiliar with their previous three albums, then start here." – SID SMITH, PROG
"Spare me for a few minutes to tell you about an amazing album that came out last month. This album is θ4 (Theta Four), by the incredible Orchestra of the Upper Atmosphere. This experimental album takes you many places, from the atmospheric, almost ambient and contemplative, nebulous threnodies to the upbeat, vigorous, and eclectic parts more reminiscent of some of the more creative progressive rock of the 70s. This album is fabulous and deserves your attention for every minute of its runtime". – Dave Tremblay, HEAVYBLOGISHEAVY